NAPAHE Featured Testimonial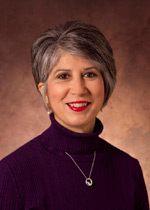 I joined the University of Central Missouri (UCM) President's Office Staff in 1999 as the Assistant to the President. At the time, I was new to higher education and had much to learn about the culture and the environment. Within months of starting my new position, the President's Executive Assistant, who was a member of NAPAHE, introduced me to the organization and encouraged me to join. I have been a member ever since that time and with the exception of 2003 when I was mobilized with my US Army Reserve unit, I have attended the annual workshop every year. Like most public institutions, UCM has continued experiencing losses in state funding over the past several years, which has required all of us to make cuts in one area or another.
Up until two years ago, I had the good fortune of attending two professional development workshops each year, but with the loss of funding, I had to make a choice of one. While both workshops were of benefit to me, the decision was a relatively easy one for me to make -- NAPAHE. I chose NAPAHE for a number of reasons. First - the E-Round Table has been a very valuable resource to me through the years. The knowledge, experience and advice that I have been able to access through my NAPAHE colleagues, has been of tremendous help and benefit not only to me, but to many others in my organization. Second, the annual workshops offer a good variety of topics and presenters to help me in my job of supporting my President and institution. And, last, the opportunity for networking that NAPAHE provides throughout the year and during the annual workshop is a priceless tool for generating new ideas, problem-solving, and establishing professional and personal friendships! It's an organization that you continually learn and grow from, no matter how long you have served as a presidential assistant.
Monica Huffman
Executive Assistant to the President,
University of Central Missouri, Warrensburg, MO.